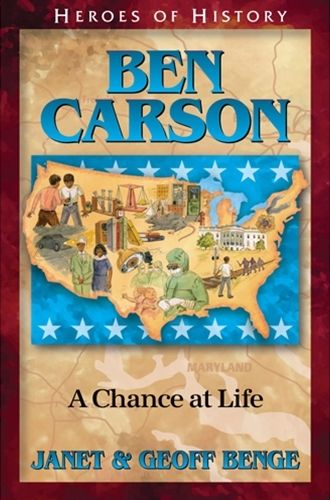 Heroes of History is a biographical series featuring men and women of history. The books are intended for ages 10 and up and feature a Unit Study that can be purchased, as well. We have always found these books from YWAM to be engaging and informative.
You might recognize Ben Carson from the presidential election. In our house, we've been following him for a few years. What an inspiring story he has! He grew up in poverty. He was a struggling learner, encountered racism and struggled with anger. His single mother was am exceptional woman. She worked more than one job to make ends meet. She was bound and determined that her kids were going to rise above their circumstances. At some point she began attending church. She and her boys committed their lives to Christ. It has been obvious from the interviews I have seen of Ben Carson that this commitment has not wavered.
When Ben struggled in school she started requiring her boys to read two books every week AND write a book report. They could watch minimal television. She expected a lot from her boys…ironically, because she, herself, was illiterate.
Of course, we know now that this poor kid became a pediatric neurosurgeon at John Hopkins Hospital. He was the first surgeon to successfully separate twins joined at the head.
What the book does not tell us is that Ben Carson became the Secretary of Health and Urban Development. It was written before it happened!
Related Themes to Explore
Appendix A: Book and Resources
Appendix B: Answers to the Chapter Questions
Appendix C: Social Studies Reproducible
I want to show you a few screen shots of the Study Guide. I used the handy dandy feature that allowed me to move between options on my computer.
You can see the various tabs available. The "Ben Carson" tab just gives you a brief summary of his life.
The real magic happens in the Unit Study. Here you can see there are Chapter Questions given for each chapter.
One of my favorite sections is the Student Explorations. They are fun, creative and appeal to a variety of learning styles.
The Unit Study Part 2 tab takes you to several printables; such as a timeline, outline maps and more.
Other handy resources are under the Bonus Materials tab. These include materials for all of the books. Notice the author interviews at the bottom. YWAM has thought of everything for a truly complete and interesting study. We enjoyed looking at the chronological overview and map.
This was such an enjoyable review. I frankly didn't expect anything less. Our experiences with YWAM publishing over the years have been exceptional.
I loved being able to point to the list of books available and say, "Okay, Josiah. Who do you want to read about next?" Most importantly, I loved being able to provide my son with an inspirational story of a man who overcame the obstacles in his life. We admire Dr. Carson's humility. This book truly pointed to his love for his Savior.
For Josiah's part, he enjoyed reading the book itself. If you follow my blog you know that Josiah is dyslexic. For many years, we have used books like this as our read alouds. This time around, I was able to assign Josiah independent reading. Of course, he didn't read as much at one time, but I know he felt a sense of accomplishment.
You need this one in your family library!
You can connect with YWAM Publishing via the following social media outlets.
Don't forget to click on the banner below for more reviews!