Nothing better than grabbing our favorite munchies and enjoying a good movie as a family. We like all kinds of movies, but we do have a splendid collection of faith-based movies. AND…we've added another one to the mix. We recently reviewed Trust Fund from Mapelle Films. We also received the companion book, Love Was Near.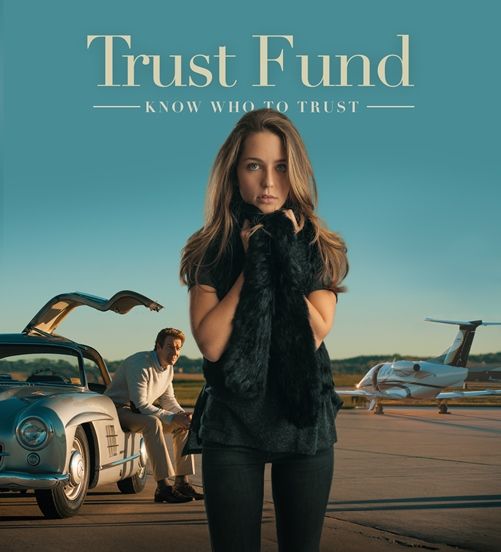 The main protagonist is a beautiful girl named Reese Donahue, played by Jessica Rothe. She is a dreamy sort, who is consumed with finishing her first book. Her father is a successful publisher and Reese has a life that we can only dream about. Travel, a great apartment…beautiful clothes.
However, her father (wonderfully played by Kevin Kilner) has decided that Reese needs to be more responsible with her finances. She is flighty and irresponsible with her allowance. He encourages her to get a job. Reese becomes frustrated and overwhelmed in her new career at the publishing company.
One day while pilfering through her father's office looking for some cash (I know!), she discovers that she and her older sister, Audrey, were left $10 million dollars by her mother after her death.
Reese decides to take matters into her own hands and transfers half of the money to her own account and takes off for Italy. And, of course, there is a man involved. Reese's idyllic plans for her future take a scary and disappointing turn.
You might recognize themes from this story from Luke 15 and the story of The Prodigal Son. If you are familiar with this parable you also know the end of the story.
"And he arose and came to his father. But when he was still a great way off, his father saw him and had compassion, and ran and fell on his neck and kissed him. 21 And the son said to him, 'Father, I have sinned against heaven and in your sight, and am no longer worthy to be called your son.'
22 "But the father said to his servants, 'Bring[a] out the best robe and put it on him, and put a ring on his hand and sandals on his feet. 23 And bring the fatted calf here and kill it, and let us eat and be merry; 24 for this my son was dead and is alive again; he was lost and is found.' And they began to be merry."
This young man's older brother was not as delighted to see his brother welcomed home. He was bitter. He had quite a different homecoming envisioned for his prodigal brother.
Yet this story is all about God's love for us. How much love does our Father have for us!
In the movie, Audrey the older sister, played by Louise Dylan, does such a great job of portraying all of those frustrations all of us would experience if we felt wronged by a family member.
Just a few housekeeping notes before I talk about the companion book, Love Was Near.
Trust Fund is rated PG for "mild thematic elements and brief smoking." The suggested audience is 12+
,
We didn't see anything in the movie that we objected to watching. This story, after all, was about a prodigal.
There is a FREE Study Guide available that offers Scripture and discussion questions after watching the movie…which means it would be appropriate for a teen or young adult small group.
Love Was Near is a book written by Sandra Martin, the author of the movie. It is actually intended to be Reese's journal as she experiences the events in the movie. If you are a parent of a young woman and get this movie you NEED to purchase this book, as well. It has some good stuff in it.
There IS Scripture and plenty of places for journaling. There are some really good questions asked. One of Reese's motivating factors for her behavior is her relationship with a man. My husband and I were youth pastors for years, before becoming senior pastors. I can't tell you the number of girls I have seen whose goals, dreams and values were put in jeopardy because of a dude.
These are the kind of discussions we need to be having with our girls. And boys, for that matter.
We really enjoyed this movie. I do wish there had been time to flush out more ideas touched on in the movie. But I will tell you this…the attitude and actions displayed by Reese's father touched my heart.
I was really impressed with the acting. Sometimes faith-based films feature some just so-so acting (no disrespect…I certainly couldn't do it!) But these actors did an awesome job. The quality of the film is also beautiful. I was surprised to see that most of the movie was shot in Kansas City! Whoo Whoo! I grew up in the Ozarks so it was fun to see a movie that was shot somewhere I've actually been more than once or twice.
Sandra Martin and the producer of the movie, Issac Alongi are a married couple. Issac was a homeschooled kid. He's had stuff on the BBC and the History Channel. THERE IS HOPE FOR ALL OF US!
Something else before I leave you. Trust Fund never comes out and talks about having a relationship with God. It's one of those subtle tales that you can pass along to your friends and family and let God do the work.
You can connect with Trust Fund via the following social media outlets. Don't forget to click on the banner below to read more reviews.