Have you considered giving

koiné

Greek a try?

Koiné

Greek happens to be the Greek used in the New Testament. My dad happens to have an advanced degree in Biblical language…however…that language mastery doesn't flow easily through the gene pool. I not about to head off to graduate school to learn the stuff…I need an easy breezy method. I just had the chance to review Hey, Andrew! Teach Me Some Greek!-Level 3 Set from Greek 'n' Stuff.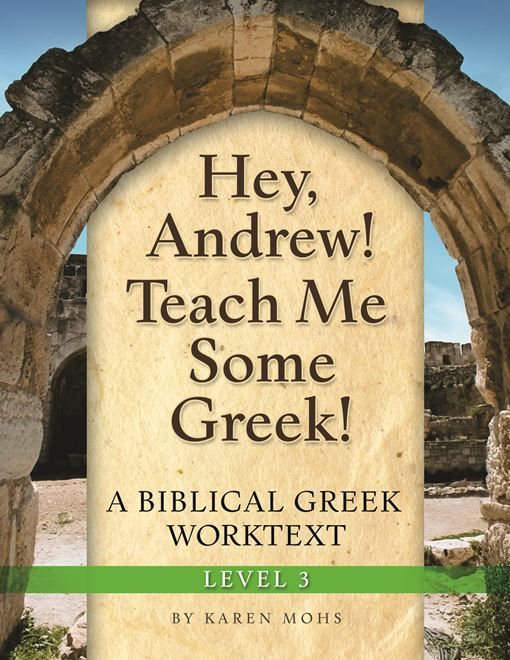 Level 3 Worktext
Full Text Answer Key
Pronunciation CD
This program is good for students 4th grade and up. IF your student has had previous

koiné

Greek or Latin... Level 4 might be a better fit. My only

koiné

Greek study was a 6 week course a couple of summers ago. And yes. My Dad taught it. And yes. I spent my time doodling in my notebook and eating brownies. Sorry, Dad. I am just not that smart.
The Level 3 Worktext begins with a review of the Greek alphabet and then advances to vocabulary. There are 36 lessons. The lessons are set up to be completed one page a day or you can slow down the pace if necessary. The Worktext has a helpful appendix and a set of flashcards to be cut out and reviewed daily. This product is consumable and intended to be used by only one student.
The Full Text Answer Key is copy of the Worktext with ALL the answers filled in along with some helpful teaching tips. It also contains a grammatical chart and suggested lesson schedule.
The Pronunciation CD begins with a song to help learn the Greek alphabet. It also contains recordings of the pronunciation of each word being taught. My CD contains both Level Three and Four.
How I Used It


I am currently working through the program in the mornings during my quiet time. The lessons are fairly quick and I haven't had any difficulty working through it. And no. Brownies haven't been part of my morning study…unfortunately.
I'm going to share a little of my progress with you.
This has been a gentle and forgiving program so far. We begin by writing out the Greek alphabet.
There are quite a few different quite of activities. In this particular one, I wrote out "a man" and even got to doodle! See! There is doodling in Greek!
This activity had me writing out the word for "and" and identifying the phrases.
I apologize for the blurry picture, but this is about the only way I can make a basket! Just ask my husband and son! I LOVE the variety of activities.
Beyond my own personal study, I have another goal in mind. I have been toying with the idea of adding an ancient language to Josiah's work study. He is in High School, and while we've touched on Latin, I'm still deciding what direction would be more beneficial to him. However...Josiah is dyslexic and I need to do some more research.
In all other ways, this particular study is user friendly. The text is very readable, the pages uncluttered and easy to follow AND the Answer key is the best thing ever...not to mention the pronunciation guide. This is a fun and very doable course for all kinds of folks. I sure have been enjoying myself!
After poking around the Greek'n'Stuff, I'm interested in checking out the Latin along with some of their other Bible studies. If you aren't quite sure what kind of program you need or where to start, I encourage you to go check out their site. They have sample pages and placement quizzes to start with.
The Homeschool Review Crew got to enjoy quite a number of Greek'n'Stuff's excellent products. You can connect with
Greek'n'Stuff via the following social media outlets. And don't forget to click on the banner below to check out more reviews!