We once had a pig called Telephone. The pig was called Telephone because my Dad purchased him at the sale barn one day instead of paying the telephone bill. Telephone the pig was something else. He was huge, cranky and could escape almost any enclosure. He also had an unfortunate habit of meeting any visitors in the driveway (unfortunate for the visitors).
Growing up in the country was an adventure. I have such good memories. However, I am always just a bit amused when some of my city folk friends talk about their dreams of leaving the hustle and bustle and learning to "live off the land." Let's just say that "living off the land" is complicated. But don't take my word for it.
I was recently given a chance to review
At Home in Dogwood Mudhole
. This is a delightful book comprised of letters written by Franklin Sanders to the readers of The Moneychanger newsletter from 1995-2002.
This first book is entitled
Volume 1, Nothing That Eats
. When Franklin and his family decide to leave the big city life and take up farming, his wife, Susan admonishes him that they collect "nothing that eats." Hah! Because I know that (for the most part) men can't resist the lure of the livestock sale barn when there is farming to be done.
A farm just isn't a farm without a chicken or two (and a couple of pigs).
This is the first in a volume of three.
Volume 2: The Best Thing We Ever Did
will be available in paperback in December, but you can purchase the Kindle version right now. Volume 3 is awaiting publication.
I really can't decide if this book is a memoir, a "how-to," or a commentary on life. It's probably some of each.
If you enjoy quirky commentary, extreme homesteading and have been raised in the South (or live very near it) you will enjoy this book. The Sanders are just interesting people. The author himself spent some time in prison (that pesky "Yankee" government interference!).
When the family decides to get back to basics, leave city life, and escape the pending doom of Y2K they find themselves in the middle of quite an adventure. In addition, we read about their travels,…weekend road trips and the like. Mr. Sanders has suggestions on interesting places to stop, eat or shop. The pages are filled with stories of beloved dogs and chickens, often ending in misadventure for the latter. There are adventures with a disappearing and fainting pig. And a Demon Cow (I think we might have met). It is hodge podge of curiosities, information, and personal stories.
This was one of those books I couldn't put down. Probably because it was like reading versions of my own personal stories. Here is the thing. I might have been raised by a "Franklin Sanders" clone. There are a few differences, but one can hardly quibble about those when discussing rogue pigs and moving cows.
This little paragraph is just a small sample of the book and is entitled "Celebrate Senior Citizens."
Tomorrow is Susan's Birthday and she probably thinks I've forgotten. Most likely, she is so sure she won't even notice this when she lays out this letter, but I got the jump on her this year. Thanks to timely reminders from my children, I have already done my birthday shopping. I decided to stick with Sentimental Stuff-a new cover for her steering wheel first, the kind made out of that shiny pink synthetic fur with a matching set of furry sponge rubber dice to hang from her rear-view mirror. That'll look great in her Volvo. She also needed a good .22 rifle, and a new asbestos oven mitt, and a good square-tipped shovel.
I never skimp on presents or good tools. Walmart was glad to see me coming.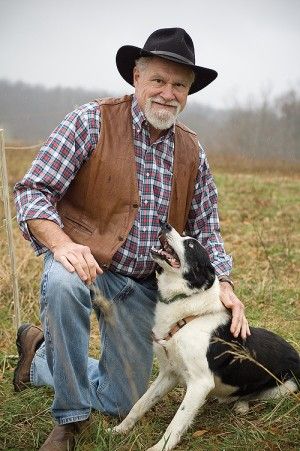 Franklin Sanders and friend
I'm beginning to wonder if Mr. Sanders has any relations by the name of Wilson by way of McDonald County, MO. He and my Dad could be related (or just "kindred spirits"). One of these days, I need to tell you about the skill saw my Dad bought my Mom for her 60
th
birthday. Oh, yes he did!
I can't even begin to tell you how entertained I was by this book. Of course, you realize that my own hillbilly sensibilities and raising made it much more enjoyable.
At Home in Dogwood Mudhole
is also filled with encouragement. Life is filled with ups and downs. God is constant. One story especially touched me. A farm accident claimed the life of a beloved dog. Hours later a horse also died. Mr. Sanders discussed how when you open yourself up to love, life and other people (and animals) that you no longer exists in an carefully controlled bubble. It brings great joy, but can also bring great pain. We serve an awesome and unchanging God. I loved this verse he included.
Return to your rest, O my soul,
For the Lord has dwelt beautifully with you.
For You have rescued my soul from death,
My eyes from tears,
My feet from stumbling.
Psalm 116:7-8 (NASB)
Isn't that beautiful?
I can't recommend this book enough. This is one I am passing along to various members of my family. Maybe it will inspire Dad to buy Mom something shiny for Christmas.
You can purchase At Home in Dogwood Mudhole, (Volume 1, Nothing That Eats) for $22.95 (paperback) or $16.95 for the Kindle version. I received the paperback edition. It's quite a heavy book. You can also check out a sample chapter entitled
Pig Persuader
.
Enjoy! Read more reviews
here.