I love a good biography. Call me nosy. I can take it. And when you combine another favorite book genre by way of the historical non-fictional novel you have me for life. I knew immediately that I NEEDED to be on the review list for
Bessie's Pillow
published by
Strong Learning, Inc.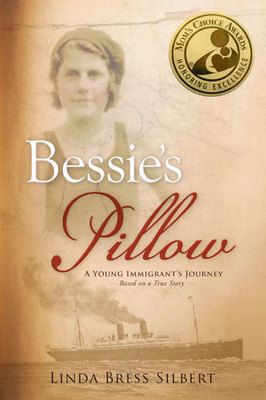 There aren't very many of us living in the United States who don't have immigrant ancestors. Of course, immigration has been front and center in our current news cycle as of late. I am not going to talk about any of those kinds of issues (thank goodness). For myself, I know that I have family that immigrated from Ireland, France and England. There is a little bit of this and that sprinkled in and even some of my folks who were here before the Europeans made landfall.
I have always been interested in those journeys to the New World and wondered what kinds of things could compel a family or individual to leave all they loved and knew to sail across the ocean to an unknown world.
Before I tell you a little bit about Bessie's Pillow I need to say this.
I LOVED THIS BOOK!
This is the kind of book that answers all those questions. It places the reader in the shoes of a 19-year-old Jewish girl and her journey to New York City in 1906. She lives in Lithuania, which at the time is part of the Russian Empire. It is placed within the Pale of Settlement.
If you are a student of history you understand the significance of being Jewish in the Pale of the Settlement. Jews in 1906 Russia were treated despicably. Young Jewish men were conscripted into the Russian army and often sent to the "front" of the front lines.
Bessie's family sends her alone across the Atlantic for a better life…away from the troubles of her homeland.
We follow Bessie has she arrives at Ellis Island, makes a new life for herself and finds love. Her story doesn't stop at the Happy Ever After. She suffers devastating losses and becomes a woman of independent means.
It was written by Bessie's granddaughter, Linda Bress Silbert. Linda's mother (Bessie's daughter) had the presence of mind who record her mother's conversations and stories. I sure wish I had had done the same with the stories of my grandmother and great-grandmother. What they could have told me!
Now that I've peaked your interest I have some more awesomeness to throw your way.
Bessiepillow.com
is filled with great resources for a study of life and immigration in the early of 1900's. There is a Teacher's Tab which houses a 16 page PDF Teacher's Guide with suggestions on how to use Bessie's pillow in the classroom. We are given a list of silent movies that Bessie might have seen, given instructions for making a Peach Melba and how healthcare compared to our modern medical practices.
On a side note: Some of this story hit home. I have been in treatment for cardiomyopathy for nearly 20 years. Part of my health history has involved extremely high blood pressure. In fact, not 2 months ago I had a medical crisis that required visits to the hospital, massive doses of blood pressure medication and constant monitoring of my blood pressure. I was sad to hear that Bessie suffered from small strokes and eventually died in 1950 because she did not have the advantages I do of modern medicine.
The book is written for with high school students and adults in mind. I knew that when I requested this review that there might be a chance that I read it by myself. Josiah's birth father was an immigrant. I know that one of these days this is going to be a great resource for us to discuss. I know from having brief discussions with this young man years ago that immigration has greatly changed in many respects. However, there is still the strangeness and adjustment when one comes to a strange new world.

This book does just a beautiful job of drawing you into Bessie's world. We care about her. We laugh and cry with her. I can't recommend it enough.


You can read more about Bessie via the book's website (
bessiespillow.com
) or the following social media sites. Don't forget to click on the banner below to read more reviews.
Facebook: https://www.facebook.com/BessiesPillow
Twitter: https://twitter.com/BessiesPillow @BessiesPillow