Does the idea of teaching classic literature overwhelm you? Do you find yourself grasping for the meaning in ancient prose? Over the years, we have been very eager reviewers of anything that has come out of the
Memoria Press
library. This time around we were blessed to review the incredible
Iliad & Odyssey Complete Set
. This amazing resource takes all the guess work out of these famous works by Homer.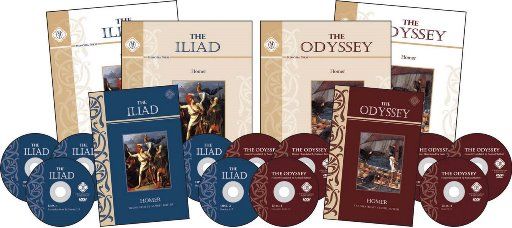 I have spent plenty of time gushing over the thoroughness of anything I've ever received or reviewed from Memoria Press. Before I get into my own experiences with Homer the Bard, let me tell you what Memoria has put together for this set.
It contains:
The Iliad by Homer
Text (translation by Samuel Butler)
Teacher Guide
Student Guide
The Odyssey by Homer
Text (translation by Samuel Butler)
Teacher Guide
Student Guide
6 instructional DVDs by Sean Brooks
The curriculum is intended for grades 7-12. It is meant to be used for a full-year course.
You probably at least have heard of either the Iliad or the Odyssey. I read both in college. My professor was a southern gal with a dry wit who made the reading of these epic works so much fun.
If you are unfamiliar with either let me give you Beke's Cliff Notes version.
The Iliad begins 10 years into the Trojan War. You've probably heard of characters like Helen, Paris, Achilles, Hector…They are all in this. And they all are just a little crazy. There are epic, gory battle scenes, a collection of "should be in a soap opera" gods and a large wooden horse.
The Odyssey is post Trojan War. All the heroes (who weren't killed in the carnage) are headed home. Odysseus is headed home to his son and wife in Ithaca. After an adventure or two, he stops off on an island where he totally takes down Polyphemus (a cyclops and son of Poseidon). Poseidon takes great issue with that and so begins the long journey home for Odysseus. There are sirens, magical cows, sea monsters and finally, a show down in at the OK Corral Ithaca.
I decided to start with the Odyssey. I realize that this is a little "cattywampus"…after all, The Iliad happened before Odysseus and
Polyphemus
had an encounter with a giant toothpick. However, I knew that the story would captivate the both of us and we would spend several happy afternoons talking about sirens, sea monsters and ill-mannered suitors.
The good thing about the entire course is that you need not have had taken classic literature in College. Memoria Press does ALL of the heavy lifting for you. They are a classical company so you can expect a rigorous study.
You might have noticed in my note above (concerning what materials I received) that we were supplied with a translation of both works by Samuel Butler. This translation is readable, yet scholarly enough so not to take away from the original works.
I found this to be an excellent translation and easily managed by Josiah and myself. Just a note however: Josiah is dyslexic and I did most of the reading. This is a standard practice for us; unless the material comes with an audio CD and Josiah can follow along.
The Teacher Guide contained helpful information, as well as drill information, discussion questions and answers and about everything you might need for teaching The Odyssey.


.The Student Guide is a consumable book that uses comprehension questions, discussion questions and much more to challenge the student.
My very favorite part of the whole curriculum are the DVDs. They are taught by Sean Brooks. He is a classical studies and Latin teacher. EVERYBODY needs a Sean Brooks in their classical literature course. He simply moved the whole thing along. Josiah enjoyed his lectures 10x's more than he did mine.

If you want to tackle the Odyssey before Iliad (probably because a man-eating cyclops sounds awesome) and are worried about putting the cart before the horse, never fear! They are two completely different works. We have come across a reference now and again, but we simply moved along.
I do need to talk about the difficulty of the curriculum for a minute. Neither the Iliad nor the Odyssey are easy "books" to pick up. There is a whole lot of everything going on. It can be downright overwhelming.
And for someone like my son, who is dyslexic, tackling these kinds of works can be discouraging. Memoria Press doesn't smooth everything out like butter…They expect excellence out their students. The discussion questions make you think. You are required to use more brain cells than used during the course of a typical video game session.
I encourage you to keep plugging away. Adapt what you can. We didn't answer all of the questions. We had to go back and reread a few sections a time or two…or four. Don't give up on the great literature just because it's hard!
Memoria Press always can be depended on for quality products that require our kiddos to put their thinking caps on!
You can connect with Memoria Press via the following social media outlets. Don't forget to click on the banner below to read more reviews!
Twitter: https://twitter.com/MemoriaPress @MemoriaPress
Pinterest:
https://www.pinterest.com/memoriapress/