Every Friday, Josiah and The Muffin go off on an adventure together. They call it "Dad's Day Out." Out of politeness they have offered to take me along, but unless they plan on spending 2 hours at Hobby Lobby I politely shake my head no. I relish my quiet time, but mostly it does my heart good to see my two guys carving out a time just for themselves. You can understand how excited I was to review

Manhood Journey Father's Starter Kit

from

Manhood Journey & City on a Hill Studio

.
Manhood Journey is a Bible-based study for fathers and sons. It is non-denominational and is intended to grow young men through discipleship. It can be used in small groups at church which is especially great for young men who do not have a father who plays an active Spiritual role in their lives. The study is recommended for ages 8-17.
The Starter Kit that I received contains the following:
·
Embarking Group Discussion Guide
·
Embarking 1 on 1 Discussion Guide
·
DVD of the introductory videos
·
Free Bonus book: Wise Guys: Unlocking Hidden Wisdom from the Men Around You, by Kent Evans (Manhood Journey Co-Founder)
The program is divided into six sessions:
Week 1: Preparing for the Journey
Week 2: Setting Out on the Journey
Week 3: Relying on the Compass
Week 4: Seeking Guidance Along the Way
Week 5: Encountering Others Along the Journey
Week 6: We Have Embarked – Where to Next?
Each session contains scripture readings and discussion questions.
The sessions start with "a word to dad." There is plenty of information in each session to encourage discussion. There is even weekly homework! For example, one week dad are encourage to take their sons out to eat. They are given questions to ask during the meal.
Do you completely trust God with your future and your prosperity?
This question is hard for many of us to answer!
The study is based around learning the "Five Big Rocks."
Aren't those awesome things for our boys to learn?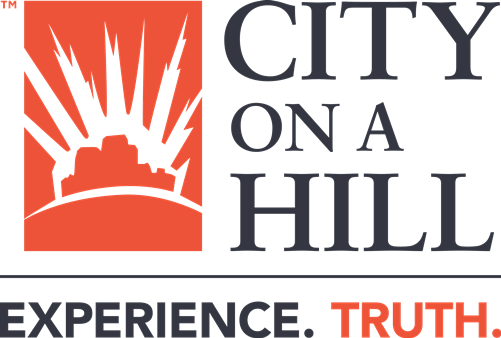 When we first received the box of goodies my pastor husband eagerly looked through everything and was immediately impressed.

Here are some of his thoughts.
This study is well-done. The "Five Big Rocks" are vital for any Christian man. I really like all the Scripture that is used in every session. This is an exciting product for any home and/or church. The materials are professionally made and I would be confident recommending Manhood Journey to anyone.
The Muffin liked it so much that he is considering using it with a group of young men we have at church. I personally love to see my husband and son so engaged with each other. I love that they are discussing the big things in life and I can see my son growing in so many ways.
You can connect with City on a Hill Studio and Manhood Journey via the following social media outlets. Don't forget to click on the banner below to read more reviews.
Manhood Journey
Facebook:
https://www.facebook.com/manhoodjourney
Twitter:
https://twitter.com/manhoodjourney
@manhoodjourney
City on a Hill
Facebook:
https://www.facebook.com/FollowCityOnAHill
Twitter:
https://twitter.com/COAHStudio