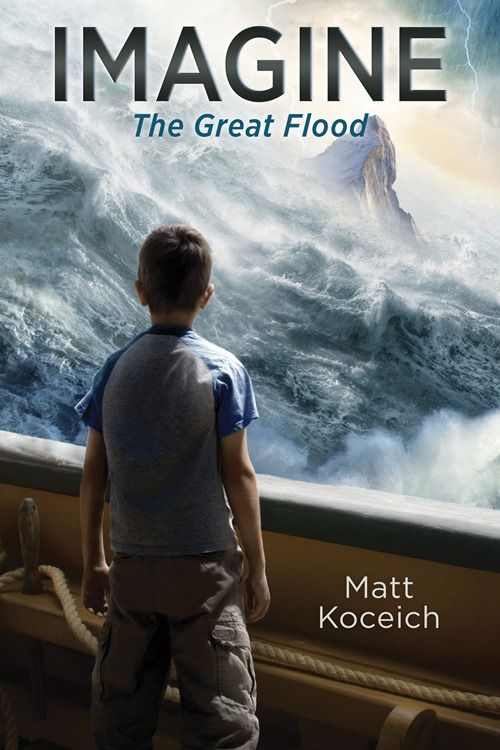 You might think you know exactly what story line this book follows…and you'd be right! However, there is a twist.
In Imagine, Corey (a ten-year-old) takes a trip back in time and experiences the days just before the great Flood. Yup…THAT flood.
The book begins with Corey learning of a big move. His family will be moving from Texas to Florida. As we experienced a BIG move almost a year ago even I could relate to Corey's bewilderment about the upcoming changes in his life.
However, Corey's worry about his move was NOTHING compared to waking up after a fall in the woods to meet a few surprises that normally don't wander the woods in Texas. Could it be that Corey wasn't in Texas anymore?
Meeting Noah and his family brought further surprises. There were some wicked people after the lot of them. Corey certainly had the adventure of his life. There are lions, and giants, and sorcerers (oh my!)
I won't give away all the details of the story (after all, you mommas might want to read the book), but Corey learns through the course of the book that maybe his challenges aren't as big as the ones faced by Noah and his family.
Can you even imagine it? (ha! You see what I did there)..
What Corey does learn is that no matter what challenges come our way…God is bigger than whatever we face! We have to rely on Him!
And that is INVALUABLE advice for all of us.
In the final pages of the book, we find Corey in Florida. Oddly enough, he meets a boy named NOAH.
The book itself is around 110 pages and intended for kiddos around 8-12. Of course, Josiah is 15, but he is dyslexic and I liked the idea of having a book available for him that would be entertaining and easier to read.
I was surprised how quickly he read it! It is one of those you have to read until you find out what happens next!
The book is action packed and most importantly for this momma it presented Biblical history in a fun way. We did talk about what it means to fictionalize a story and compared the book with the Biblical account in the Bible.
I have a few beloved books that are fictionalized Biblical accounts so Imagine been a fun one to introduce to Josiah

.
I personally enjoyed the vivid imagery that Mr. Koeich used throughout the book. It kept the book moving and helped the reader really "see" what was happening in the story.
And you don't have to be a homeschooler (or even a young reader) to enjoy this one. This would be a great gift for reluctant readers (especially those boys who crave action) and a fun one to add to the church library.
The next book by Matt Koeich is called Imagine…The Ten Plagues and it comes out in 2018. I'm sure we will need to add that one to our collection, as well!
Before I leave you, I do need to tell you to check out Barbour Publishing! We've enjoyed The Dairy of a Real Payne Series from Barbour. I am happy to recommend them (and their books) any day of the week!
In the meantime, give Imagine. . .The Great Flood by Matt Koceich a look! I know it's just the start of a great Christian series for kids.
You can connect with Barbour Publishing via the following Social Media outlets. Don't forget to click on the banner below to read more reviews.
Twitter: https://twitter.com/barbourbuzz Tag: @barbourbuzz