One can't be the parent of a teenager in today's world and not worry about all the influences that seem to bombard our kiddos from every direction. It's been especially difficult to navigate the murky waters and advice concerning sexual intimacy and relationships. We recently had the opportunity to review
Sex by Design
from
Abby Ludvigson
.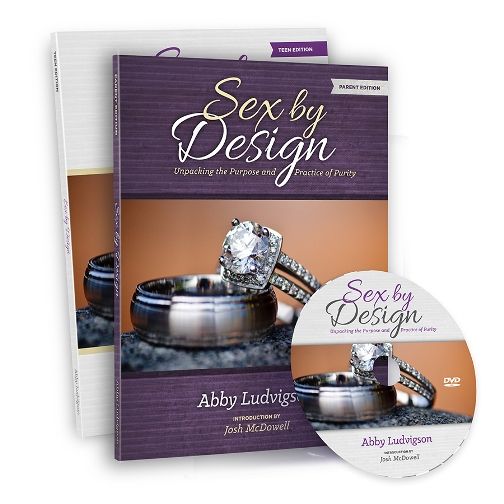 This series is a combination of a couple of things. It comes with a companion guidebook for the teen and one for the parent. The main teaching comes from a seven part video series. In addition, a helpful website with articles, book recommendations and resources to print off is available.
It is divided into the following parts.
1) Plan Ahead: Living Pure in a Sex-saturated Culture
2) Counting the Cost: Every Decision has a price tag
3) Dating: Doing Relationships God's Way
4) Sex: God's Purpose and Plan
5) Modesty: God Cares What I Wear
6) Pornography: Its deception and Steps to Get Out or Stay Out
7) Secondary Virginity: Running Back to God

The videos are approximately 25 minutes long. They include testimonies and comments from teens and professionals with the bulk of the video being a teaching from Abby. She is addressing a group of teens from inner city kids from St. Paul, Minnesota.

The Guidebook contains a script from the videos, a film outline and a set of follow-up discussion questions. The parent Guidebook also includes a lot of helpful suggestions and some more information about how to use the program.

The website has a fluid selection of books recommendations, downloads and articles. I personally found this section to be valuable. I like to have a variety of weapons in my arsenal (if you know what I mean).


How We Used It and My Thoughts
Anybody else feel kind of "squeezy" when talking about certain things with your teenage son? I have always approached the weightier subjects in life…the birds and the bees, drug and alcohol use, personal integrity and who played "Doctor Who" the best…with a great deal of openness and frankness.
This series won't help you with your the birds and the bees speech (or sway your Doctor Who vote). You will still have to dive right in there and ignore your "squeezy" feelings. There is no mention of the mechanics of sex. Instead, Abby addresses purity and God's plan for intimacy.
My son is 15 (going on 16) and, thankfully, isn't in the dating scene. Every time a cute little girl winks his way, I get the jitters. It is my goal to teach him to honor the women and girls in his life. I also want him to live his life with Godly integrity and not feel swayed by peer pressure.
I recognize that these goals are shared by many of you out there.
This series is not one that should be done by your child alone. We began by watching the first session (Plan Ahead: Living Pure in a Sex-saturated Culture) video. The Guidebook helped facilitate conversation and discussion. This session contains a few suggestions. For example, writing in a journal to your future spouse or purchasing a purity ring. I especially appreciated the suggestion of setting boundaries when dating.
This is one of those programs that needs to be chewed on. We have started Session 2 (Counting the Cost). In this session, Abby talks about the consequences of sex before marriage. This has been a really interesting session for us. You might know that Josiah is the product of a teen pregnancy. His sweet birth mother made that difficult decision to put him with a family (us!), which has been the greatest joy of our lives. I have had to walk a careful line with this one. While he has been such a blessing and we can't imagine life without him, I have also talked to him about how much pain it caused his birth mother to walk away from his life. Her cost was high…and I can't imagine a more selfless act.
Though Josiah has always known about the miracle of his adoption and our great joy, I was thankful for a way to have a frank conversation with him concerning those harder things.
I was especially thrilled with the online Resources. In fact, there is an Adolescent Self-Regulatory Inventory. Are you kidding me? I (me, myself and I) need this! I am considering having everybody in the house take it at least every 3 months.

True Confessions: I am not looking forward to the session on Pornography. I get all those "squeezy" feelings. But...I know how vital it is that we send Josiah off into battle forewarned and forearmed. Looking through that particular session, I am so glad Abby is there to help facilitate.

This is also a resource we will revisit through the years. Josiah's experiences will undoubtedly change and we will need continuing conversation.
Overall, this is an excellent resource. I think it would be appropriate in a small group setting, as well. I loved reading about Abby's own love story and I think it is a beautiful testimony of living according to God's plan. The whole package (the videos, website and books) has been beautifully produced. If you have a teen (or preparing for those teen years) or a single, young adult in your house
Sex by Design
is a super resource!
You can connect with Abby via the following social media outlets. Don't forget to click on the banner below to read more reviews.