Most of us have had an experience of some sort with a Gospel Tract. In fact, there is one that looks like a piece of currency floating around in my husband's wallet. I get excited every time I get a little glimpse of it until I remember it is not, in fact, a million dollar bill. Not that I go through my husband's wallet all that much…I do need to make that clear. Someone gave it to him years ago and he still keeps it in his wallet. Anyhoo. I do think that Gospel Tracts have their places, but many of them often leave me disappointed in the method of delivery. I think we can show more of Jesus with our lives than with a piece of paper. That being said, I was pleasantly surprised with the offering of Gospel Tracts I just received from
Let the Little Children Com
e. Read on for my review of the
Gospel Tracts and EvangelismTools Sampler Pack
.
I need to tell you that years ago we were full-time children's pastors. We have high expectations for tools used for ministry to kids. We are now senior pastors and our expectations haven't waned any. We think they need to be engaging, well-made and, most importantly, convey a clear and positive redemptive message.


Here is what came in our sample pack.


John 3:16 Animated Tract
Gospel Buttons FlipAbout
The Most Amazing House Pop-up Tract
Wordless Bracelet Kit
The True Story of Christmas Animated Tract
The Lost Easter Egg Pop-up Tract
John 3:16 FlipAbout
Silicone Salvation Bracelet
Where's Everybody Going? Animated Tract
Wordless Book
You can see that while there are several Tracts to choose from, each tract falls into one of three styles.



The first style I want to talk about are the Animated Tracts. Each little tract comes with a striped piece of plastic over the picture. As you move the piece of plastic over the picture the scene comes to life. They are engaging and super creative. I love those little animated flip books and this Animated Tract takes that to the next level.
The Pop Up Tract is basically a mini-pop up book. I LOVE Pop Up books and we have even enjoyed making them ourselves. The books are short in length (only 5 pages and under), but gets to the point right away.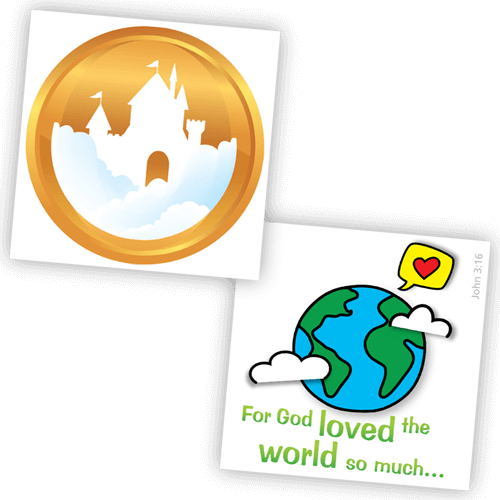 The third style of tract is the FlipAbouts. It is a paneled book that needs to opened with different twists and turns to make the message appear. It can be a challenge for the littles to figure out, but I can see a little bit older kids having a blast with this one.
I also received a couple of evangelism tools. The Silicone Salvation Bracelet is fantastic. It does come with a piece of paper explaining the meaning of each color. This would be fantastic to include in stockings this year. I think it encourages kids to talk about their faith.
The Worldless Bracelet Kit contains 5 colored beads that represent the Salvation message (just as the Salvation Bracelet). However, this is basically a little craft kit so you can use this as an activity for a class or group of kiddos.
The Wordless Book also uses the 5 colors to help kids talk about their faith. There are no words (obviously), but each color points to Christ and helps kids express that.
I think there are so many possibilities for each product. The Tracts are excellent to stick in visitor packs, handout at outreach events or even bake sales. We have a food pantry and a free community meal every week and I think we are going to get a variety to stick in food pantry boxes or handout to kids at the community meal. There is enough of a "play" element to each of them…they will certainly keep a body occupied (and encouraged ;<). In fact, the seasonal tracts for Christmas and Easter are going to go on our list this next year for purchase.
The bracelets and Wordless books would be terrific to handout in your children's church or Sunday school classes. I think it's important for kids to learn to how to talk about their faith. You could even incorporate them into part of your salvation messages. I also think they would be great to give in stockings.


There are so many possibilities! And Let the Little Children Come produces quality products. We just used the Halloween Tracts at church. Not only did they look adorable, but they were well-made and the message was clear and creative. You can read my review for that product
here
.
I think you will be impressed with all of their products! They do good work.
You can connect with Let the Little Children Come via the following social media outlets. Don't forget to click on the banner below to read more reviews.