So here it is. The last review for the Homeschool Review Crew for 2017. And I've got a good one for you.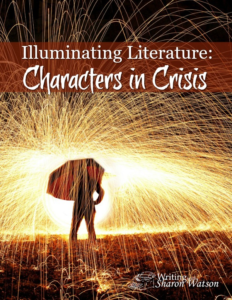 Before I talk about what I received you need to check out
this great resource
of free sample chapters, Teacher guide samples, quizzes, and grading grids and more!
Got to love those samples!
Illuminating Literature: Characters in Crisis by Writing with Sharon Watson is intended for students 9-12 grade. It is written from a Christian perspective and can be used for two semesters to earn one credit. The 38 lessons are student-directed and use complete novels and stories.
I received the following products:
Teacher's Guide
Student Textbook
Quiz and Answer Manual
And a Novel Notebook pdf download…which is FREE!
You will need to obtain the books used in the study yourself, but Sharon provides links for easy purchase on the website. I happened to have several of the books except for some of the short stories.
Let me talk a little about each part of the curriculum.
The Teacher's Guide contains a monthly lesson plan, grading grids, and answers to all the lessons, quizzes etc. that are found in the Student Textbook. Yay! I don't know about you, but I don't want to have to think too hard when reviewing an assignment with my son. As I tell my son. I already had several literature courses in college. I've proved myself. Now I just read for fun. For those of you who are a bit more ambitious there is even a plan for setting up a reading club (book-of-the-month club) for your students.
The Student Textbook contains everything the student will need (except the book) to enjoy literature. As I mentioned, the student will read the entire book…not just a passage here and there…which happens to be a pet peeve of mine. Let them read the whole thing! Sharon also includes in-depth author bios (I personally loved reading the one about Mary Shelley), interesting facts and background information to give the student more insight.
The curriculum will appeal to reluctant readers, as well as those of us who are bookaholics (yes, this is a term). One of the things I appreciated about the textbook is that Sharon walked the student through each chapter. I really dislike literature programs that are open-ended. Sometimes it's hard to interpret an author's intent…and can you please give me that example of "foreshadowing" you keep talking about? Anybody with a reluctant reader will agree with me.
After completing each section in the textbook, the student will be prompted to go take a quiz.
Now there are two ways you can quiz your student. There is a hardcopy version of the Answer and Quiz Manual or there is an Online option. If your student enjoys the online quiz there is a code found in the Teacher's Book for access. Personally, I think this is a fabulous option. We seem to be doing more and more of our schooling online as of late. It's just so handy.
The Novel Notebook is a free download. It contains 86 pages that can either be printed off or saved to the computer using the add text option that comes with a PDF. This is a journaling notebook that contains questions and extra activities. I do have to say that what I appreciated most about going through this was Sharon's laid back and gentle attitude in studying literature. For example, she encouraged students not to answer ALL of the questions provided in the section for Frankenstein. In fact, she said "We don't want to beat the novel to death."
This has always been my beef with many literature programs. Let's not kill a student's love for literature by trying to get too complicated. Sometimes it's not that deep.
The literature list is as follows. We are encouraged to use a particular edition of the books as helpful page numbers are given throughout the course. I always use an audio book in addition to the hard copy so I've had to make sure everything matches up.
A Jury of Her Peers by Susan Glaspell, (included in the textbook)
Frankenstein by Mary Shelley
Silas Marner by George Eliot
Much Ado About Nothing by William Shakespeare
An Assortment of Short Stories (included in the textbook)
A White Heron by Sarah Orne Jewett
The Garden of Forking Paths by Jorge Luis Borges
Haircut by Ring Lardner
The Lady, or the Tiger? by Frank Stockton
Of the Passing of the First-Born by W. E. B. Du Bois
A Child's Christmas in Wales by Dylan Thomas
Sense and Sensibility by Jane Austen
Biography or autobiography of student's choice
The Hobbit by J. R. R. Tolkien (Mariner Books version)
What I Thought
My concern with any curriculum is always will it be appropriate for my dyslexic son. The truth is that obviously a literature program will be a bit more challenge to navigate. There is an awful amount of reading involved. I have noticed that peppered in the usual discussion questions are some helps. For example, in the Frankenstein unit the students are taught how to make notes in the book itself. This is called annotating and something I encourage Josiah to do in all his reading.
I also love the variety of activities given to enhance each unit. For example, after reading the short story A Jury of Her Peers, students can participate in a mock trial, learn to can, create a sewing stitch, write a procedure and more.
Overall, I think these kinds of experiences only make to bring the story and the experience to life. I love it!
I think you'll be impressed with Characters in Crisis. Be sure to check out those free samples!
You can connect with Writing with Sharon Watson via the following social media outlets. Don't forget to click on the banner to read more reviews !


Facebook:
https://www.facebook.com/WritingWithSharonWatson
Pinterest:
https://www.pinterest.com/writingwithshar