I want to apologize right up front. My topic today might push a button or two. I sure know mine have been pushed on occasion. Anything I say is not meant to be offensive. This is MY opinion. I have a very specific philosophy of education (and for that matter, life). I do not struggle with ADHD myself….everyone else in my house does. And we do just fine. However, I am not going to lead you on. Occasionally, it can be exhausting (and sometimes overwhelming) for this mama (the non ADHD person) to keep up.
A few years ago I read an article (uh-oh…Homeschool mom + Article = ???). At the time I was at my wits end. Josiah is busy. Really busy. The article talked about training your child to learn effectively. Most of it involved stern discipline and a "battle" of wills. It was just plain discouraging. I didn't want to battle. I just wanted some peace and I wanted some learning to take place. Was that just too much to ask?

Thankfully, I decided that Josiah wasn't willfully defying me every time he attempted to sit on his head during math. He was just busy. And it was my job to help him learn to manage himself as well as provide him with opportunities to use some of that energy creatively.
Here is just a sample of what might have happened at our house during a recent history lesson.
Me (aka Mom, aka The Trained Teacher): Today we are continuing to discuss New World exploration. We are going to read about a man named Henry Hudson. He was…
Josiah: Hey! There is a kid in my PE class named Henry. You really don't hear that name a lot. We haven't seen Henry all summer. Do you think they had a good summer? When do we start PE again? I hope we start with archery. We didn't get to take archery last year.
Me: Okay. We will discuss PE later. The Henry we are discussing was born In England in 1575. I want you to get out the world map from your Notebook…What are you doing? Is that an Orc? What is a picture of an Orc doing in the Pacific? This is not time for free drawing.
Crash!
Josiah: Oops! I knocked over my colored pencils. Hey mom! Can you erase colored pencils with an eraser? (as he scurries all over the floor picking up his colored pencils) Do you think maybe I could event one?
Me: Let's get back to Henry Hudson. I want to talk a little bit about England at the time Henry Hudson was born. There was a lot going on. It was a tumultuous time. The country was rapidly changing from primarily an agrarian society to a maritime power. Can you tell me what you remember about an agrarian society?
Josiah: An agrarian society relies on agriculture…Hey mom! Did you say the Amish are had an agrarian society? Remember when we visited Shipshewana and…Do you think the Amish use colored pencils at home? (as he waves his colored pencils around).
Me: We really need to get back to the subject at hand. At the rate we are going the New World is never going to be explored. What are you doing on the floor?
Josiah: I noticed that I left the pencil sharpener on the floor. Hey mom! Do you think I can do an experiment to see if I can see how short I can sharpen a pencil and it still be able use it effectively? (he's still on the floor). Wow! Look at this. I found a pin from your sewing basket. That's dangerous mom! Could someone die from being poked with a pin?
At this point I am ready to lie on the floor myself.
Frankly, I don't have a very high energy level. I'm usually ready for a nap following Math (and I'm not about to admit when Math falls on our schedule).
So some of you might have a busy boy (or girl) of your own. And then there are those of you whose children never ever would even think about creating a fort out of the colored pencils, erasers and spare straight pins found on the floor during History. They are the kinds of kids who sit eagerly with their pencils all in a row. They write beautiful and thoughtful sentences that stay on the topic and never ever blurt out any random trivia fact about the making of Indiana Jones and the Raiders of the Lost Ark during Bible.
I don't believe that every busy and active child is busy and active just to push your buttons (we go use a case-by-case approach when it comes to "button pushing" in our house). I think that these kiddos are usually remarkably bright and unique little people. Those who have ADHD often deal with depression and low-self esteem. They don't fit the model of a "traditional" public school student.
I want Josiah to know that it is perfectly wonderful to be just who he is. I also want him to learn those important lessons of self-management and self-control. And what better place to do so in the safety of home?
Here is a bit of advice. You will save yourself a lot of time and energy if you just go with it.
Just a few changes in your heart and methods can make all the difference in the world. I have found that if I use a variety of techniques it makes schooling go a lot smoother.
I have to give Josiah routine and clear expectations. For some like me this is difficult. I am more of a fruity, creative temperament. However, I taught little kids. Little kids thrive on schedule…as do kids with ADHD. I had a harder time implementing it into our day at home. A clear schedule is necessary helps Josiah manage himself (and helps me, too!)
I use shorter lessons. I can tell you that they aren't going to learn it any better if they have to sit for an hour. I try and keep his lessons with me no more than 30 lessons with each subject. For independent work, I set the timer. Every homeschool family needs a timer. I use it for almost everything.
During any read alouds or other instruction I make sure there is some busy work Josiah can apply himself to. Drawing, stress balls…It's amazing what a difference having something to keep in his hands helps him absorb more of what we are discussing. Oddly enough, he has always had trouble embracing Legos. He loves the idea of them, but has a hard time following the directions.
Keep it quieter. Josiah is the kind of kid that thinks he needs everything on. TV, computer, radio…I often go behind him and turn things off.

I do have an exception. Sometimes I play classical music lightly in the background. I did this even as a teacher. It is amazing how calming it can be.
When I was a teacher I had a 1st grade student who struggled. He had been held back. He just couldn't keep up with class work. One day while observing him I noticed that he knew exactly what everyone else around him was doing…but had failed to complete even a ¼ of the math problems on a worksheet. It wasn't as if he didn't know how to do the math. He just couldn't focus. I wound up creating a special little cave just him. I bought a cardboard sewing mat. It has 3 sides and made the perfect screen. I was initially tempted to decorate the insides, but then came to my senses. The little guy just needed an area that didn't overwhelm his senses. I have tried to do the same for Josiah. He doesn't have a "cave," but I make sure that he is facing the least interesting spot on the wall.
I stopped worrying about all the wiggling. As long as he listens when it is time to listen he can wiggle all he wants. It made this traditional classroom teacher a little nervous. Can you please just sit still? But I got over it. Josiah's retention level and my frustration levels have seen improvement.
I make sure he has plenty of physical outlets. This is more difficult. We live in an apartment building. I can't just push him out the door when he needs to run off some stem. However, most of his extracurricular activities involve some sort of physical activity.
I have learned to embrace the gift that is my child. I have a wonderful resource for you to check out. One of my very favorite people in the world is Carol Barnier. The very first book I read as a new homeschool parent was her book, How to Get Your Child Off the Refrigerator and Onto Learning.

God knew exactly what I needed to start out with. I have heard her speak many times since (via Homeschool conventions). And each time she has encouraged me to embrace the Gift that is my child. He is funny, curious and simply a joy. It is useless (and completely self-serving) to try and turn him into what I think a perfect child should be. Shame on me.
I love this passage found in Psalms.
For you created my inmost being; you knit me together in my mother's womb. I praise you because I am fearfully and wonderfully made; your works are wonderful, I know that full well. My frame was not hidden from you when I was made in the secret place. When I was woven together in the depths of the earth, your eyes saw my unformed body. All the days ordained for me were written in your book before one of them came to be. Psalms 139:13-16
Embrace your gift!
So back to one of my original points. How can I (as parent and teacher) keep up without losing my temper and my mind? Some days it seems as if I lose both.
Have you ever had a confrontation with someone and it became so much bigger than it should have been? Chances are there is something else going on.
It is very seldom that any of us act out based on one single event. Maybe there has been a loss of job, an illness, financial difficulties…any of those things are big stressors. It is foolish (and naïve) to think that those types of burdens can't affect our attitudes and interactions.
I find that when I don't feel good or haven't been sleeping I tend to show less patience. In fact, I can be plain grumpy. My overall attitude sets the mood for the entire household. So what do I do? I sure don't want to damage the relationships in my life (especially with my family) because I need a nap.
Here are a few things to consider doing. I generally have to revisit one or more of these points every day!
I try and take care of myself. That is not always easy. We mamas tend to put ourselves last. Unfortunately, it takes its toll. Somebody winds up paying and it is usually everyone. If you are unable to go have some time for yourself, schedule little quiet times for yourself every occasionally.

Don't let the guilt keep you from soaking in the tub or reading that book. Your family will survive. They will also learn to be considerate.
If it has been a rough week for me physically, I create a much simpler day. It is much better to pare down our activities to keep my sanity and keep the peace. I don't want to let something out of my mouth that is going to be hurtful or a hindrance to someone I love.

Compromise is a good thing. Sometimes we just have to let things go.
Consider that some kids are more sensitive to your state of mind. If you are harried and snippy or worried…keep it all to yourself. I talk things over with my husband or (most importantly) I take my burdens to the Father. I don't need to lay them on my son. He's 11.
Keep the Big Picture in mind. My child is a gift. We have a place to sleep and food to eat.

So what if that list of sentences did not get completed in the allotted time. I am not going to freak out and creative chaos in my home.

I'm the adult.
I need to Bless my son. He needs to know that while we have expectations concerning his schooling and his life, we think that he is simply wonderful. That God created him for a purpose. He needs to know that those challenges he is facing might seem to be insurmountable, but God has a plan.
I am part of the TOS Crew 5 Days Blog Hop. You can check out more bloggers by clicking below.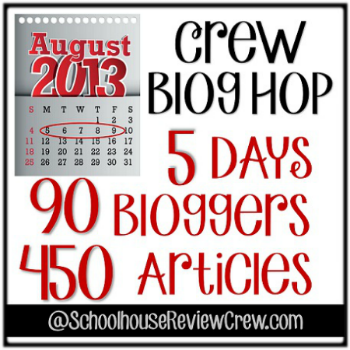 Don't forget to
Enter to Win
a FREE Ticket to The Schoolhouse Expo!