I have been a member of the Homeschool Review Crew for a LONG time. And I can tell you that one of my favorite vendors has been Heirloom Audio Productions. They produce FANTASTIC audio dramas based on the novels by the fabulous G.A. Henty. I pleased to announce that we've added to our collection. Recently, we've had the opportunity to review the latest and greatest production, In the Reign of Terror.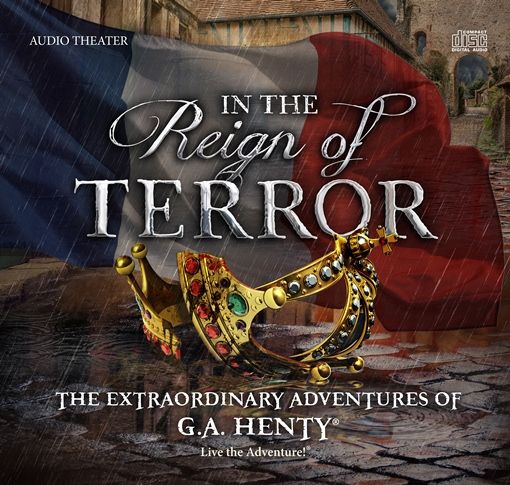 You first need to know about G.A. Henty. He was an English novelist and war correspondent during the late 1880's. He wrote about history and adventures. For the past several years, Heirloom Audio has been taking his books and creating these wonderful audio dramas.
They've used actors from all our favorite movies and television shows. Star Wars, Lord of the Rings, Indiana Jones, Doctor Who and Downton Abbey.
In the Reign of Terror was first published in 1888. Our hero is a student named Harry who travels from England to France to stay with Marquis De St Caux and his family. If you know anything about French history you know how bloody and tumultuous the French Revolution turned out to be. Harry remained loyal to his friends and grew in courage and conviction.
I can't give away the story, but the brilliant Brian Blessed once again narrates the adventure. Oh. And I've talked about Josiah's obsession with John Rhys Davies before…Is that you, Sallah? He is fantastic as the Marquis.
As part of our review, we had the chance to join the Live the Adventure Club. It is a NEW website subscription. As part of our subscription we received…
The Official Script Download
There is also an in-depth Study Guide that features:
The Listening Well – comprehension questions.
The Thinking Further – questions and activities that go further with the story and places mentioned.
The Defining Words – This section contains vocabulary words from the story