This Giveaway is over! Congratulations to Melissa Chappel for winning The Magic Stories!
Do you have a struggling reader or a kiddo who is 2
nd
or 3
rd
grade? I've just been reviewing the neatest product called
The Magic Stories
. This set of 6 stories comes from Allsaid & Dunn, LLC, publishers of The Reading Game and authors of the Wordly Wise series. (Stay-tuned...I have a Giveaway at the end of this post!)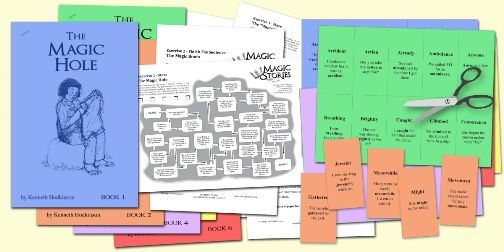 Now must of you know that my son is nearly 16. He does not fall in the recommended grade level whatsoever. That being said, it is not out the realm of possibility that I could use this product for him. He is also dyslexic and one of the methods that I have found that words for him is constant review. Those of you who are teaching or parenting one of these learners understand that we might think we have mastered a skill one day, but the next day it was like they have never heard it before. I will say that our journey has gotten much easier over the years. I believe the results we've seen are because we've had constant review, out of the box methods and consistency.

For the rest of you who don't have a struggling learner, I am also looking at this product as a former elementary classroom teacher. I've taught many a kiddo to read my in my day.

For my review, I received a PDF download of the 6 Magic stories, the Naughty 40 flashcards, and the exercise books. They are available for purchase as a set or individually. I believe they are priced very reasonably, so you might check that out.



The stories are intended to be a follow-up to
The Reading Game
, but I think as long as your student has the ability to read simple sight words and understands familiar phonetic patterns they will be just fine. The stories are moral tales that use a series of words that don't fit the spelling rules or are more difficult to learn. These words are called the Naughty Forty. In addition, there are a set of exercises with each story that help the student master these words.
The stories DO need to be read and used in order. There is
Parent/Teacher Guide
on the website that explains more of the methodology and usage. This program is entirely paced to your needs so you can use it in a variety of ways. I do have some suggestions, which I will talk about as we go on.
The Naughty 40 all come as cards that need to be printed off. This is the Naughty 40 list for the very first story, The Magic Hole.
The goal is to test the student with the Naughty 40 words prior to reading the story. My preference would be to go through these cards daily with my student/students. I certainly would either print them off on cardstock and/or laminate them. I don't know what I would have done without my laminator all these years.
I love, love the assessments can come included. You can see that this assessment has a spot for "pre" reading the book and "post" reading. You will also notice the criteria. The student needs to recognize the word, be able to read it in a sentence and understand its meaning. I like that! Many programs stop at "recognizing the word." It also gives you a goal. If your student has difficulty with a word or two you could use tack the offending word up all around the house.
The stories themselves are engaging and the entire booklet (with the Naughty 40 list included) runs about 20 pages. You can print them off or use an tablet or computer to view them. If I had a younger one I would personally print them off so they would be easily accessible. I also would read the book daily. For those of you who have kiddos with dyslexia I like that there is plenty of white space on the page. The illustrations aren't found on every page, but the words are large and easier to follow.
The following page is also another wonderful resource. This assessment takes a portion (100 words) from the reading and helps you test the student's accuracy. A helpful scoring system tells you how proficient the student is reading and if he or she needs further review.
Each book comes with 4 exercises (not including the assessments). They are Maze, Finish the sentence, Imagine and Finish the Story. They cover they assist in teaching a variety of language art skills. These include comprehension, creative writing and more. I'm going to show you a few samples.
This Exercise instructs the student to finish the sentence in his or her own words. I have found that some students have difficulty in not completing a sentence without copying the story word for word. This is an excellent exercise to encourage summarizing and comprehension.
This Exercise encourages the student to use his or her imagination. What happens next? Of course, there will be students who have a harder time with this exercise, but I know several of you have a child who could write a whole new story today! Such fun!
If I were teaching a younger student, I would have her complete one Exercise daily.
Because I love using literature in almost every aspect of our schooling, I think this is a fantastic product. I think it is reasonably priced and something you can even use to review time and time again. We often use materials we used ages ago when Josiah was much younger for review. This is also a great product for those of you with multiple students.
For now, I have something fun! The author is graciously giving away one of you a FREE download of The Magic Stories! All I need is for you to comment below. Tell me what your favorite book is! I will let the Giveaway go for about a week and then announce a winner.
Go check it out!
You can connect with The Magic Stories via the following social media outlets. Don't forget to click on the banner below to read more reviews.