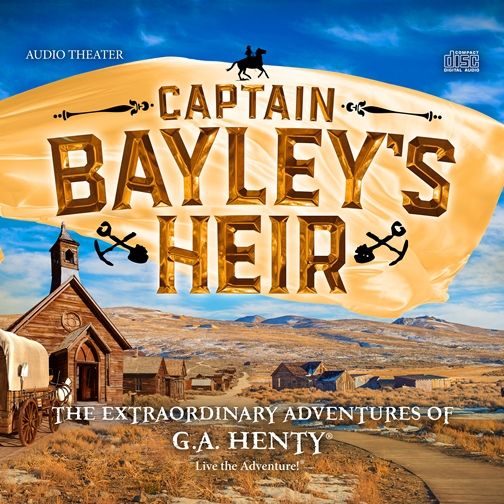 It's no secret that many of our favorite reviews have come from
Heirloom Audio Productions
! This time around we got to review the brand-new adventure,
Captain Bayley's Heir
from The Extraordinary Adventures of G.A. Henty series.
We have nothing but love for Heirloom Audio Productions. After all, they are responsible for some of our most beloved audio dramas. The dramas are based on books by G.A. Henty. Henty was a British novelist and war correspondent active during the late 1800's. His stories are always action packed, based in history and filled with moral lessons. Heirloom Audio uses superior sound, superb acting and overall an excellent production quality to the dramas. We always feel like we are in the middle of the adventure.
Captain Bayley's Heir has to be one of my favorites so far. This two CD set also came with access to the Live the Adventure Club. This content included the original G.A. Henty novel eBook, a beautiful cast poster, a desktop wallpaper, an MP3 download of the official soundtrack, an inspirational hymn poster and an awesome Study guide and Discussion Starter. We also had access to a digital version of the audio drama along with a read-along script.
I'll talk more about some of the goodies I found on the Live the Adventure Club site in a minute. First I need to tell you about the story itself.


We first listened when we were going out of town on vacation. My husband is also a huge Heirloom Audio Productions fan so he was equally excited to see it peeking out of my travel bag. We spent the next few hours wrapped up in the adventure.
The narrator, Mr. Henty himself, is again played by the incomprompable Brian Blessed. He is a treasure. Our story begins around a campfire somewhere in the Wild West. Mr Henty is telling his companion a most remarkable tale.


This tale centers around an interesting cast of characters. Frank Norris is a student at Westminster School in England. He lives with his Uncle Harold Bayley, a cousin Fred, and his uncle's ward, Alice. There seems to be much affection between the members of the household, but Uncle Harold often appears sad and can seem cold. The backstory is that many years ago, Uncle Harold's only daughter eloped with her suitor and Uncle Harold was unable to forgive her. Sadly, when Uncle Harold came to his senses and sought to reconcile with his daughter she could no longer be found.


We learn through the course of the story that his daughter had, in fact, died. Meanwhile, the main character, we learn more about Frank. Frank is an upright kind of guy. He displays this when he rescues the dog of a young crippled boy and earns the undying devotion of the boy and his family…even procuring employment for the young boy's mother.
Unfortunately, Frank's life is about to take a rough turn. After a serious of unfortunate events, Frank is falsely accused of stealing money from a teacher. To avoid being publically expelled, he borrows money from his cousin and runs away to America. Frank has many American adventures, but eventually finds himself in California in the gold fields.
Okay. So we have been told we can feel free to give away the plot of the whole story…but I CAN'T DO IT!
It was one of those twists in the story that we all looked at each and went, "say what?" I would feel like I was spoiling someone else's delightful surprise.
I will say that I love stories like these. There is a little mystery involved…and I'm always up for a good mystery.
Most importantly, God's grace is displayed throughout. Forgiveness abounds and there isn't anything better than that.
And can I say that, once again, John Rhys Davies was stinkin' awesome! We love Mr. Davies. We loved him as Sallah, Gimli…and all of his characters with Heirloom Audio. He is just plain fantastic.
The Bonus Content that is available on the Live the Adventure Club site is really impressive. We did listen to our CD's, but I can see how the digital version would so helpful for many families to have access to. We enjoyed listening to the soundtrack. As, always the music was beautiful and inspiring.


A big resource for any family is The Study Guide and Discussion Starter. This is perfect help for any homeschooling family.


In fact, it is a great resource for ANY family or even church group.


There are questions for each track on the CD, in addition to vocabulary words and questions that encourage the listener to think deeper about what he or she just heard. There is a bunch of historical content that just made this Momma's day! Lots of fun stuff…and who can resist learning more about the Wild West!
There are a few questions in each section that requires the listener to go even further. For example, the second track asks the listener to learn more about the economic conditions in London at the time of the story. There is another request to listen to a certain work composed by Bach.
Later on the story, we are asked to learn a bit more about Manifest Destiny and reflect on our feelings about the "big guys" ruling it all.
Towards the end of the Study Guide there are a list of books for further study and 3 (!) terrific Bible Studies. They are on God's Grace, Becoming a Christian, and Honoring Your Parents. All 3 are going to be used in this house!
So this is one is another Winner! In fact, if I were to choose…it might be my favorite so far!
I have been blessed to review all of the titles in the Extraordinary Series so far. Any one of them would be a great addition to your library. Just remember that some of the "action" in the Henty stories can be rather intense. Just use your own judgement when listening with the family. The recommended ages are 6-adult.
You can read my reviews for other adventures from Heirloom Audio. It is quite possible I have used the same kinds of adjectives in all reviews. Marvelous! Wonderful! Excellent! Exciting! Can you tell we love Heirloom Audio?
Under Drake's Flag
In Freedom's Cause
The Dragon and the Raven
With Lee in Virginia
The Cat of Bubastes
Beric the Briton
In the Reign of Terror
You can also connect with Heirloom Audio Productions via the following social media outlets. Don't forget to click on the banner below to read more reviews!