This Giveaway has ended! Congratulations to Melissa for winning the Thin Stix Creativity Pack!
One of my favorite products I've reviewed through the years isn't necessarily just for homeschoolers. Ya'll know I love me some art supplies. And I mean LOVE. Nothing brings on the warm fuzzies like a some quality colored pencils, a cute stamp and a pack of the product I'm about to share with you today. I'm talking about the
Thin Stix Creativity Pack
from
The Pencil Grip, Inc.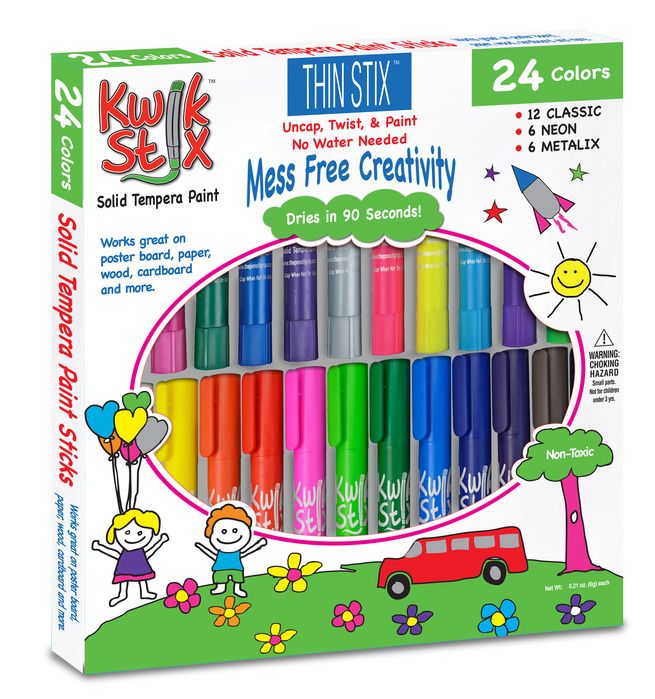 Oh, yes. I will share links to my earlier reviews in a bit, but for now let's just bask in the loveliness that is the Thin Stix Creativity Pack. 24 little paint lovelies.
Before I show you how I played with them, you need to know all the Kwik Stix particulars. These are solid tempera paint sticks. They are virtually mess free (unless you have a kiddo who likes to eat their markers...then you might have a mess). You don't need water. You don't need paint brushes. You don't need paint smocks.
I was an early childhood teacher (including kindergarten) for years. I know the messy mayhem that is art class. I also know that those littles need to creative and explore!
My first experience with a Kwik Stix was when some little friends came over and we decorated our own wrapping paper for Christmas. Since then, The Pencil Grip has come out with these Thin Stix.
The Thin Stix Creativity Pack has 12 classic colors, 6 neon colors and 6 Metalix colors.
The classic colors have a little bit of everything you might need. I love that the white shows up on darker colored paper and brown craft paper.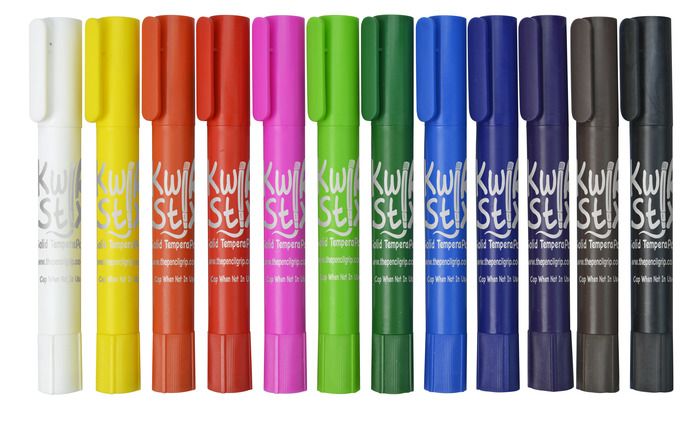 The Metalix colors are my favorite. I love the way they shine and shimmer. They make me happy.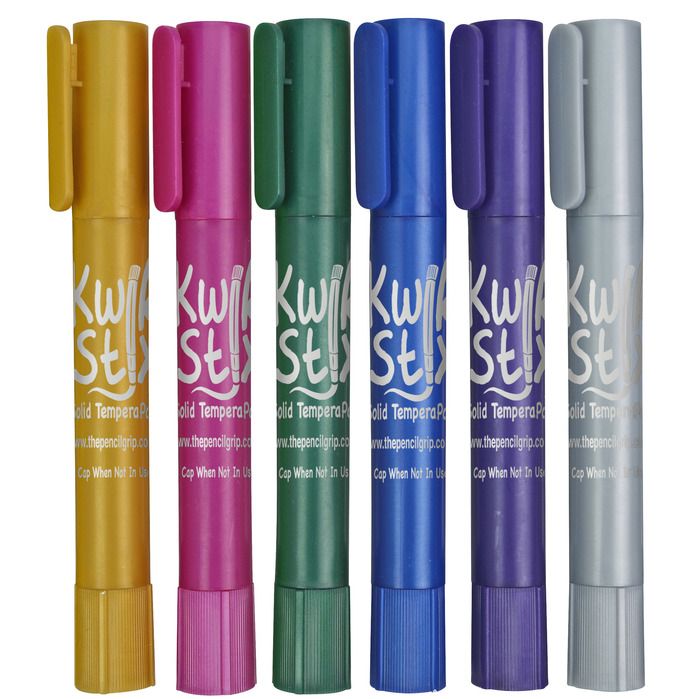 I think the neon colors are perfect for bright posters. These are usually the ones Josiah grabs. He's a neon kind of guy.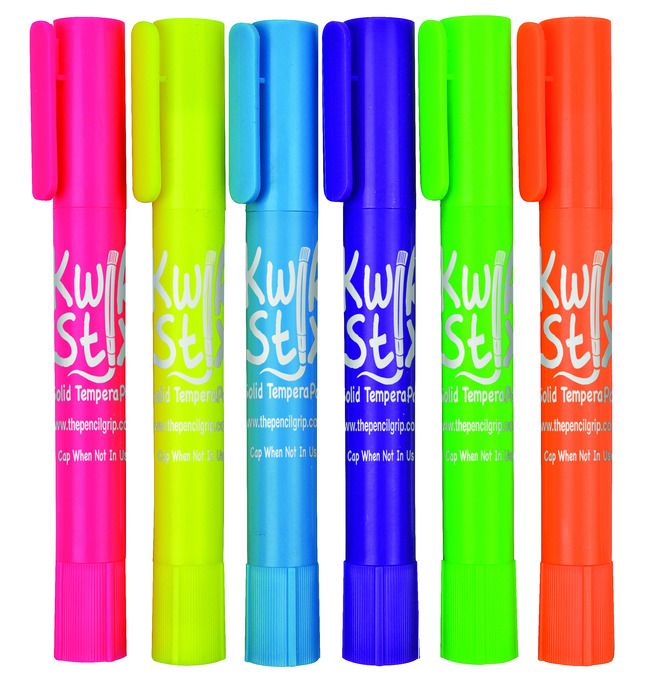 Let me show a couple of projects.
I have used Kwik Stix on wood before, so when I saw these adorable little fall wood ornaments, I knew that our new Thin Stix set would be perfect to use on them.
You can't tell as well from the picture, but the blue, purple and green colors on the Miss Owl are from the Metalix set. I honestly can't get enough of the Metalix. So shimmery!
This next little picture is from a doodle I drew from something I saw on Pinterest. We still have less than 2 months before the big day, but I have been piddling around with Christmas designs and possible gift tag ideas.
This little word art project was simple, bimple using the Thin Stix. You can see that the black isn't quite as dark and filled in as it would be using a permanent marker, but I think it has a charming hand-colored effect.
While the Thin Stix are thinner than their original Kwik Stix cousins, they aren't quite fine enough for really detailed projects. They don't, for example, do a good job with my adult coloring pages.
However, they are perfect for the simpler coloring pages that have more open space. Which is exactly what you would need to use with littler folk.
We have used them for poster projects, on canvas, on craft frames and much, much more. They are silky smooth to use and take only 90 seconds to dry. That way we can get right along with our crafting.
I can think of a million and one places these little beauties could be used. For starters, they would be a great gift for a stocking. Sunday School classes, preschools, home art cabinets, Grandma's house...they list goes on!
The intended age for this product is 3 and up, but if you have an ambitious and capable 2-year-old I think he or she would be perfectly fine. When Josiah was that age he would have loved these. He didn't like to have messy hands (still doesn't!).
As I mentioned, I have done several reviews for The Pencil Grip, Inc. If you have the time, you can see what I've done in the past and what I've thought.
Safety Scissors and Pencil Grips (check out the giveaway on this one!)
Thin Stix (Classic Colors)
Kwik Stix (Neon and Metalix)
Kwik Stix (Classic Colors)
You can see that I have quite the collection now. If I were to chose a favorite, I would have to say that I adore the Thin Stix Metalix colors I got this time.
In any event...they are all winners.
For now, my sweet friends, The Pencil Grip, Inc. has been generous. They are giving away one set of the Thin Stix Creativity Pack to one of you! All you need to do is comment below and tell me what your plans are for Thanksgiving dinner. We will chose the winner at random!
You can connect with The Pencil Grip, Inc. via the following social media outlets. Don't forget to click on the banner below to read more reviews.
Facebook:
https://www.facebook.com/thepencilgrip/
Twitter:
https://twitter.com/thepencilgrip
@thepencilgrip
Pinterest:
https://www.pinterest.com/thepencilgrip/