This post contains affiliate links...using affiliate links from There Will Be a $5 Charge for Whining helps support this blog, our homeschool and my book addiction. Thank You!
Are you here for the Blog Hop! Welcome...This week, in honor of our 10th year homeschooling, I'm sharing my Top Ten homeschool resources, school supplies and more! You can click here to get schedule for the week.
It's me again! It's Day 4 of our 5 Days of Back to Homeschool Blog Hop. This week I am celebrating my 10th year of homeschooling by sharing with you My Top Ten lists about a variety of topics.
Today we are talking about Homeschooling outside the home. Admittedly, we have never been the Co-op brand of homeschoolers. It's not that I am opposed to Co-ops. They just have never been a fit…mainly Momma needs more flexibility.
Today instead of sharing with you general "ideas" about what you can do to broaden the walls of your homeschool, I am going to share with you what we have ACTUALLY done.
I realize that not all of it will be practical for all of you, but hopefully you will find a nugget of inspiration. I'm going to share some pictures (I'm reaching waay back here) of some of our favorite adventures.
1.
Josiah attended an interaction program just for Homeschoolers at our local YMCA for years. The class would meet 1 day a week for 2 hours. They got to climb a rock wall, go swimming and participate in team sports. This is where the boy first learned about the tortures of dodgeball. Dodgeball was the stuff of my elementary nightmares.
2.
We also had Josiah in swim lessons from the time he was 8. Eventually he joined the swim team and that was our life until he was 14 and we moved out of state. Admittedly it took more of our time. He had practices 3 days a week. I loved that it taught him that he could be faithful and consistent. AND being that we had to be at the Y so much, I had no excuses not to exercise myself. Mostly.
3.
If all that wasn't enough Physical Education for one busy guy, we joined a PE class for homeschoolers at a local University. The teachers were college students themselves (generally Phys Ed majors) who were supervised by their professor. During the fall semester the students learned about team sports; basketball, football, lacrosse, volleyball and more. During the spring semester the students focused on Individual sports; golf, bowling, archery and even fishing. Plus, they learned about personal fitness. The class was held twice a week and lasted just under an hour. My favorite part of the class were the interactions I got to have with other mommas. We had the best time! This was also one of those activities we did year after year.
4.
For many years, we volunteered at a nursing home. Not only did we come in several times a year with our church to play music and conduct a service, but Josiah and I spent many other happy days there. Josiah painted fingernails, helped call bingo, served ice cream, participated in the Tai Chi class and generally was spoiled by all the residents. Our visits were far more than just a volunteering situation ...Josiah developed relationships...you talk about socialization!
5.
The library, for us, is just an extension of our homeschool. We not only make a weekly visit, but there have even been times that we've loaded up a particular subject and had "school" at the library. Most library have small study rooms that can be reserved. We have attended extension programs, concerts and book clubs. It has also been a great place to help Josiah practice his own researching skills.
6.
Of course, there has to be times for field trips. We have visited television stations, art museums, history and science museums and so much more. The beauty of homeschooling is you can visit places during off-seasons and low seasons. No public school type people there to cramp your style. I've often said that homeschoolers can turn even a trip to the grocery store into a field trip.
7.
One of Josiah's favorite outings has always been our nature walks. While it's fun just getting out of the house, we are able to talk about geography (tracking trails, etc.), and science (botany, animal science). We can take beautiful pictures and sketch some interesting things along the way. Plus, we all need that fresh air and Vitamin D. The thing with Nature Walks is that the more consistent you are the better. I find that scheduling one a week at the same time works well for us.
8. There is nothing like outsourcing some of that educational stuff. One of my favorite people to outsource some of that educational stuff has been my mom. She is a professional artist and a terrific teacher. She can coax creativity out of a gnat. I could just take him over and beautiful things would come out of my son's hands. I always love finding people to help me who know more than I do! Which, frankly, is not that hard. 😂
9. Community events have always been a great way to take our homeschool on the road. We've gone to concerts in the parks, lectures, and cultural festivals. We've been to the ballet, enjoyed an Irish band, watched Shakespeare in the park and even attended a seminar featuring Temple Grandin.
10. One of the favorite things ever is the several years we had "Reading Buddies." Basically, a homeschool friend and I decided that it would be fun to bring our boys together to form a reading club. Eventually our club grew to include my friend's younger children. Sometimes you've got to make your own magic. We used to joke that she was the "cafeteria lady" and I was the "reading teacher."
The moral of the story is that plenty of schooling can be found outside your four walls!
That's all I have for today. I hope that you've enjoyed coming to my little corner of the blog-universe. Tomorrow I am going to try and bless you with some encouragement. You are not alone!
For now, you can check out and see what my friends on the Homeschool Review Crew do.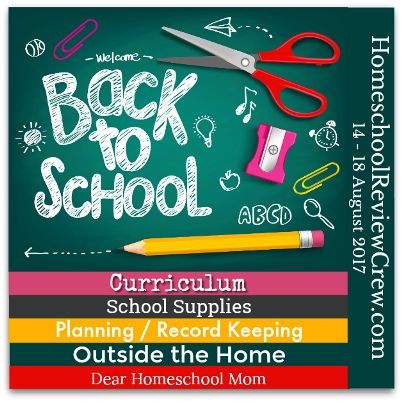 Blog Post Link: http://schoolhousereviewcrew.com/outside-the-home-back-to-homeschool-annual-blog-hop-2017/