We have reviewed a lot of products from
Memoria Press
. I am always thrilled with anything we get. They just do good work. The past few weeks we've been reviewing something just a little different from our usual Memoria Press products. This time around we have been looking at a science study called
Nature's Beautiful Order.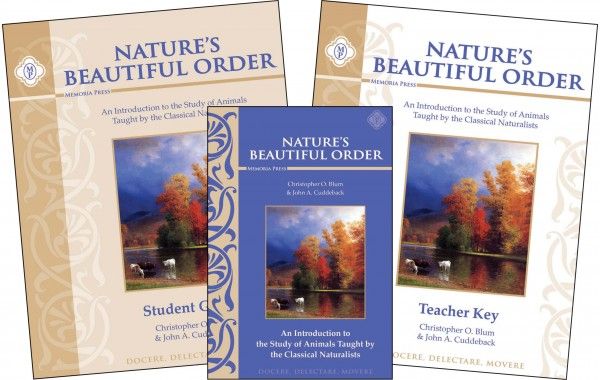 This product is intended for grades 6-9. It can also be used as a supplement for higher level biology students. We received a Student Textbook, a consumable Student guide and a Teacher Key.
The Student Textbook contains 18 lessons about animals from the land, air and sea. The lessons aren't fluffy, that's for sure.
You will find lessons for:
The Cat
The Lobster
The Cuttlefish
The Sea Urchin
The Bee
The Trout
The Frog
The Turtle
The Canada Goose
The Miracle of Flight
Day's Herald Bird
Birds at Home
The Groundhog
The White-Tailed Deer
The Carnivora
Farm Friends
Man the Upright Animal
Man the Steward
The Student Guide has a variety of questions for each lesson. What I appreciate about Memoria Press are that these questions involve real thought. No multiple choice here!
I found the Teacher's Guide to be a great help. I didn't have to think so much ;<)
For our part, Josiah and I worked through the book and questions together. He is dyslexic and I have found that reading together or reading aloud greatly reduces the frustration level. As I mentioned above, this material isn't fluffy. It can be quite challenging. It is truly rich material.
You need to know first that this study celebrates those classical naturalists who felt that a student needs to study first about those things that are interesting to them. Not necessarily parts of cells or obscure scientific terminology. Instead we are to look with curiosity and wonder about the things around us. What does nature tells us about our world and the natural order of things?

Students are encouraged to observe and we are introduced to great observations of natural scientists during the course of the study.


I want to share with you just a few elements of the very first lesson
The Cat.
This is the lesson that Josiah and I both appreciate fully...given the fact that we are extremely fond of Princess the Siamese Cat who rules our household with a gentle, but particular hand.
The scientist introduced in this lesson is Dr. St-George Mivart who lived in the 1800's. We understand that the Domestic Cat came to us from the East (Egypt is obviously mentioned) and that it was a great crime in some countries to kill a cat...such were their valuable contributions (namely mouse killer).
After explaining the general details of cats (differences between wild and domesticated, life-span, etc.), how we, as natural scientists, go about observing and comparing and distinguishing. How do living things differ from non-living things? How do animals differ from plants?
The rest of the book takes us through a very interesting study of the Animal Kingdom.
The questions in the Student Guide can be used in a variety of ways. We used them primarily as discussion starters. Because the reading requires more than a nominal amount of attention, I wanted to be sure that Josiah was "getting it."
One question in the Lesson I made me think about scientific observation and how I had been taught science when I was growing up.
Here is the question.
Why is important to recall that we naturally learn by making distinctions?
In my youth I would have given this question a polite, but blank stare.
Here is the answer given to us in the Teacher's Key.
Because when we remember that point, our learning will be more easily won and retained. By continually asking, "What is it?" and "How is it different from what I already know?" Our little steps will give us solid gains of knowledge.
If you are a fan of the Charlotte Mason or Classical method of teaching you understand! It inspired me to spend more time during our school day observing!
This is a neat study. Check it out!
You can connect with Memoria Press via the following social media outlets. Don't forget to click on the banner below.